Putting Locals First in the East
03 May 2022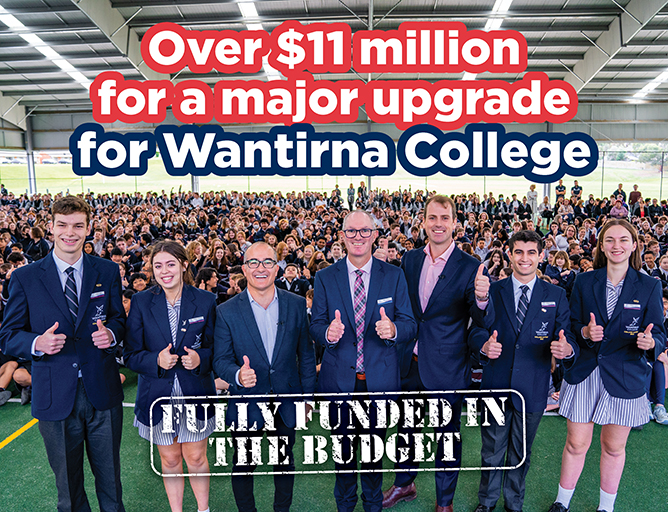 The Andrews Labor Government is supporting local jobs and getting things done in the eastern suburbs.
The State Labor Member for Bayswater, Jackson Taylor, has said that the eastern suburbs were a big winner in the State Government's Budget – with funding being locked in for school upgrades, local roads as well as suburban revitalisation in the heart of Boronia, building on strong advocacy as the local voice in the State Labor Government.
Funding has been secured in the Budget for a major upgrade to Wantirna Secondary, in Wantirna, with $11.2 million delivered to build a brand-new double court competition-grade gym, performing arts, learning and admin facilities, with planning work to begin immediately.
Mr. Taylor has been working on delivering this upgrade for over four years, including during his time as the local Councillor, and has been proud to advocate on behalf of the school and principal, Kevin Murphy, during that time.
Mr. Taylor was also proud to announce $5.7 million for a huge upgrade to Eastern Ranges School in Ferntree Gully, which will upgrade and modernise the school including the Special Building, Junior and Senior Wing buildings and Administration – meaning we've delivered upgrades to every single special school right across Victoria.
This builds on $50 million of funding already delivered to local schools around the community, including at Bayswater Secondary, The Basin Primary, Boronia Heights Primary, Templeton Primary, Regency Park Primary and many more.
Mr. Taylor is also proud to have been able to secure funding to make local roads and intersections safer for motorists, cyclists and pedestrians.
For years, many have spoken about upgrading the dangerous and congested intersection at McMahons Road in Ferntree Gully without any action. For years, there's been promises made but no delivery, with locals forced to run the gauntlet of fast-moving, dangerous traffic.
After further advocacy within the State Government, Mr. Taylor has been able to secure funding to deliver a fix to this intersection – ending the talk fest, fixing it once and for all.
The funding – not contingent on an election outcome but locked in the Budget – will deliver a fully signalised intersection here, with traffic lights to improve traffic flow, travel times and – importantly – safety in this busy part of the world.
The funding has been delivered following Mr. Taylor presenting a petition to the Roads Minister, Ben Carroll, with over 600 signatures, showing just how much the community wants to see this fixed once and for all.
This investment build on many other road safety enhancements delivered during Mr. Taylor's time as the State Member for Bayswater a safer intersection at Alchester Village in Boronia, the brand new Knox shared pathway along the Burwood Highway in Wantirna as well as delivery of 40km/h flashing signs for The Basin CBD to improve pedestrian safety in the village.
Revitalising Boronia is about to get even bigger, with Mr. Taylor proudly announcing more funds delivered in the Budget to ensure that the Boronia Revitalisation Board – Chaired by Mr. Taylor – can continue to deliver funds to fantastic local projects to bring the CBD back to life.
The Board has already delivered nearly $3 million for projects, including revitalising Lupton Way and Erica Avenue, either side of Boronia Station, tens of thousands of dollars of Business Façade Grants, planning for a green spine corridor through the heart of Boronia, as well as four large scale murals throughout the CBD.
This funding builds on $500,000 already delivered by Mr. Taylor to begin planning works on a new, bigger and better Boronia Station – meaning that the brightest days for Boronia well and truly ahead of it.
Bayswater commuters have also been big winners, with Mr. Taylor announcing that Bayswater Station will soon have greater access to more secure bike parking facilities, with an additional Parkiteer, secure bike cage to be installed at the station – giving more locals the confidence to cycle to the station before jumping on the train.
Quotes attributable to Member for Bayswater, Jackson Taylor
"I'm absolutely stoked that, as your voice in the State Labor Government, I have been able to successfully secure funding to deliver locally and create jobs."
"Make no mistake – this is real funding secured in the State Budget and I'm proud to be delivering for our amazing community."
"We truly live in the best part of our state – and I'm so proud to go into bat each and every day and to have now delivered around $500 million in great local projects."