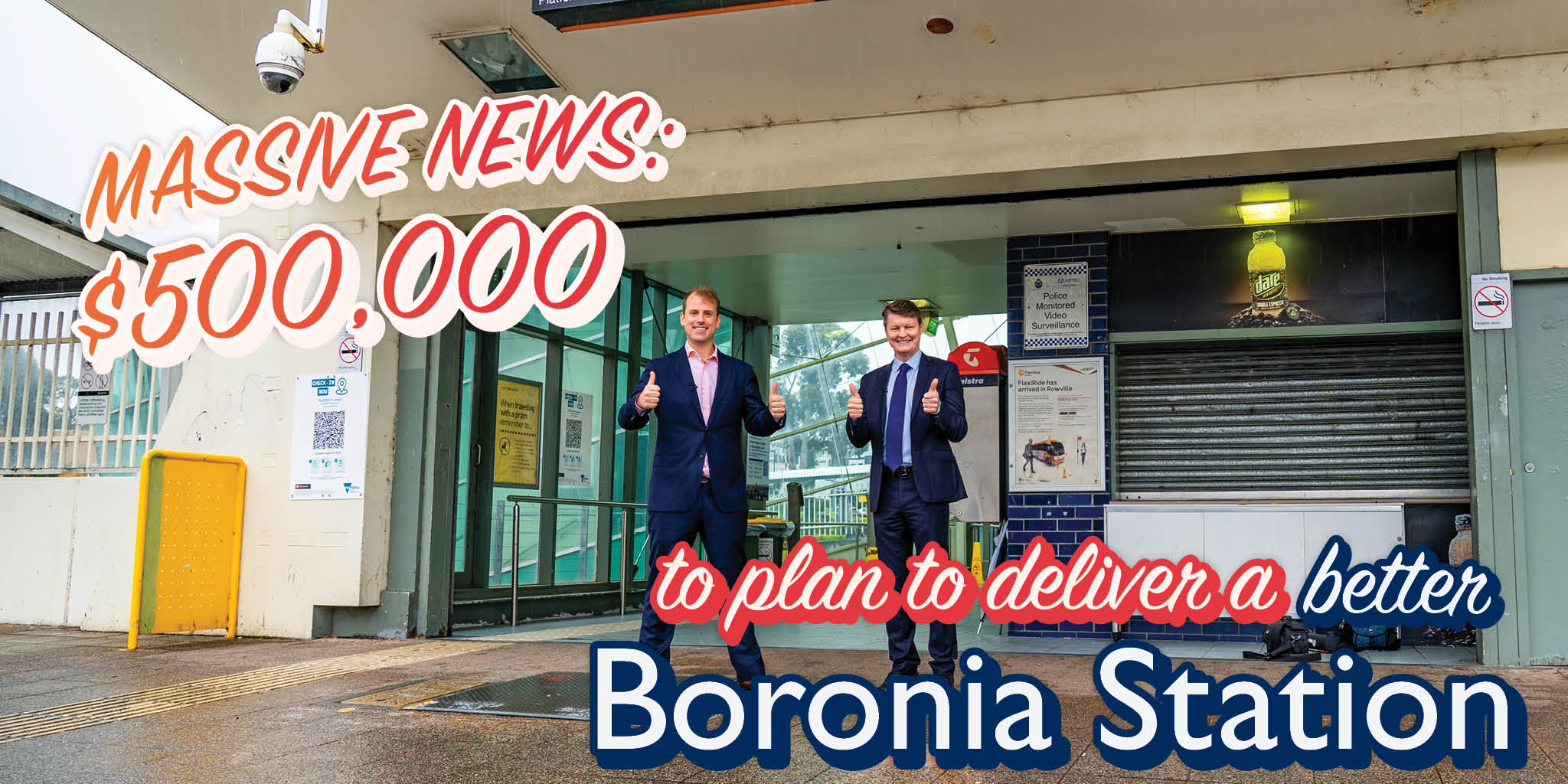 Back in Boronia!
We're Getting on with delivering for Boronia
The State Government has identified Boronia as a priority suburb to revitalise in order to leverage local growth, enhance local economic activity and diversity and provide more local jobs that match the community's skills. A place-based approach to revitalisation in Boronia will specifically seek to:
Promote Boronia's location at the foothills of the Dandenong Ranges and that it is a great place to live
Become a strong local centre with a village feel
Enliven underutilised spaces into community/civic meeting places
Enhance local amenity and connections throughout the centre to showcase all that Boronia has to offer
Supporting community connectedness
We're getting things done in Boronia because only Labor builds Boronia!
Thanks all for your support and for your feedback to help me fight for every single dollar for our community. You deserve nothing less.
It started off with a petition and now we're getting on with it!
Here's what we're getting on with:
The establishment of the Boronia Revitalisation Board
🚉 $500,000 to plan for a better Boronia Railway Station
$250,000 already invested to upgrade the laneway along the Station and bright lit up public art
$120,000 to plan for the 'Green Spine Corridor' project. This will plan for the delivery of an amazing green corridor stretching from Chandler Park all the way down to Tormore Reserve
$50,000 to back in local businesses with a Business Facade Grants program (Round 1)
$150,000 to help Beautify Boronia with the creation of 4 large scale mural sites in the Boronia CBD.
$1,000,000 for a new look Erica Avenue in the form of a streetscape renewal, right from Boronia Road up to Genista Avenue
$100,000 to improve EACH's Boronia Road Façade and create a Community Food Garden and Pantry
$80,000 for the Boronia Big Flix Festival
$32,809 to support Different Journeys to deliver a range of peer-support programs for neurodiverse young people and their families/carers in Boronia
$100,000 for Round 2 of our successful Business Facade Grant program to help spruce up shopfronts and bring life to our boulevards
$200,000 for a range of pop-up events to activate Boronia like you've never seen
$150,000 to deliver a Laneway and Arcade Renewal in Boronia's CBD
$140,000 for the Eastern Community Legal Centre's 'My Generation Project' which will address ageism and discrimination through a range of intergenerational activities.
$50,000 for Minor Grants Program for projects by not-for-profit and community organisations located in Boronia
$50,000 for the Boronia Youth Mentoring Program delivered by Big Brothers Big Sisters
$60,000 to develop a plan to address connectivity issues, to help you better get around Boronia and create a strong identity for Boronia. What do we want Boronia to stand for and what is our identity? We've got to help to sell ourselves and this bit of funding will help do that and will help create jobs and bring more people in
☕️ $148,000 for Knox Info Link to deliver the Boronia Community Breakfast program!
$100,000 to replace 478 inefficient lights across the CBD and install better and brighter ones, making it safer too!
But there's more to do…
Original Petition:
I'm so proud to be your local Member of Parliament and I'm a proud local. And I've heard you crystal clear: We need to back in Boronia and revitalise the CBD.
This is why I'm calling on the Minister for Suburban Development with a petition from locals to establish a Revitalisation Board and thereby a critical process for Boronia to bring the community and key stakeholders together to work towards changing and improving the Boronia CBD for the better, so we can see Boronia reach its full potential we all know it has and the aspirations that each member of this community has for it.
Boronia is a proud community of over 20,000 locals and at its heart is a regionally significant shopping precinct – the biggest in the outer east in fact, outside of Eastland and Knox City.
With that in mind, the precinct is looking tired and in need of attention, something commented on by locals and visitors alike. Your voices and concerns have not been lost on me.
And I've heard from locals like you, as well as visitors and business owners that something needs to be done.
I've secured $500,000 from the Andrews Government to help kick-start this change to deliver a range of projects in Boronia, to help start the revitalisation and to create local jobs in the process.

The first project recently announced and soon underway will ensure Lupton Way can undergo a major streetscape overhaul, creating a new shared space and see a new and exciting art installation which will provide lighting to make the area safer for locals and provide a bit of added character. This first project is a $620,000 commitment in partnership with Knox Council and there is more to come.
But I want to see a full Revitalisation Board put in place for our suburb to help drive further positive change that is desperately needed in our area.
Future opportunities could include further work at Boronia Station, laneway galleries and gateway public art, placemaking and much more through this and other funding opportunities.
This petition will be presented to the Minister for Suburban Development, Shaun Leane MP, to demonstrate that the people of Boronia want to work together so Boronia can live up to the aspirations that our community has for it.  
Suburban Revitalisation Boards have been established in places like Frankston and Broadmeadows – and they have been a real success story.
They have coordinated local stakeholders – business owners, locals, Councils and State Government – together to work towards tangible and real change.
And I'm excited to be leading this charge – and to be working with you to back in Boronia.
🗣There are lots of opinions on Boronia, this is good. As we go forward, your voice now and your thoughts into the future are going to be so important to me in advocating for change.
I will keep you informed at every step and use your voices for this and further needed change.