PETITION SUCCESS: Funding in the Budget Secured To Deliver Lights at the McMahons Road x Burwood Highway intersection once and for all
It's. Finally. Happening! Absolutely stoked to announce that after years of empty promises from others and a talk fest that just wouldn't end, I've secured funding in the State Budget to fix this problem intersection once and for all! And proud that it's the Andrews Labor Government that is getting on with this critical project for our community!
It'll be a fully signalised intersection – the upgrade will ensure safer turns for motorists into and out of McMahons Road and a safe crossing for pedestrians and cyclists as they move across Burwood Highway. And even better – planning starts now. We've waited long enough – Because improving safety for locals on our roads is so important as every injury and life lost on our roads is a tragedy. It's simply time to get this done.

The major upgrade will make this intersection more efficient, improve travel times and importantly make it safer for all users.
I'm so proud to have been able to secure this for our community. I heard you loud and clear – stop the year of empty promises by others and just get on with it. And as your voice in the State Labor Government, I've done just that.
A big thanks to all of you who took the time to sign my petition. With your help, we got this one done.
I'll keep you in the loop as time goes on and as this important project takes shape.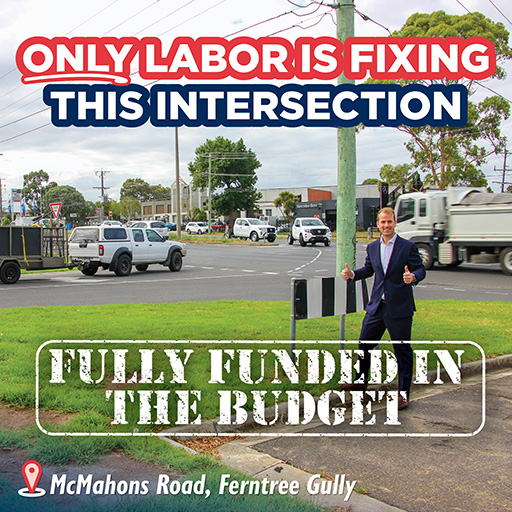 Original Petition Wording:
As your voice in the State Government and your Local State Labor Member, I've been proud to deliver upgrades to local roads and public transport across our community - but there's more work to do!
That's why I'm calling for the delivery of traffic lights at the intersection of McMahons Road and Burwood Highway, in Ferntree Gully. But I need your help…
Please sign my petition to fight for a safer intersection and add your voice.
Delivering better roads is one of my biggest priorities as your local State Labor Member for Bayswater. And to do that job, I've been listening to locals like you about what issues matter.
And one of the issues that stands out is locals wanting to see traffic lights here to make it safer for everyone. That's why I've asked the Minister for Roads to come down to check it out for himself firsthand, to understand what needs to be done.
This petition will be presented to the Minister to show that locals are committed to seeing a safer traffic solution for this tricky intersection. This won't happen overnight but with the help of your voice, I'll fight tooth and nail to get this done.