MASSIVE OVERHAUL OF THE EASTERN FREEWAY AS PART OF NORTH EAST LINK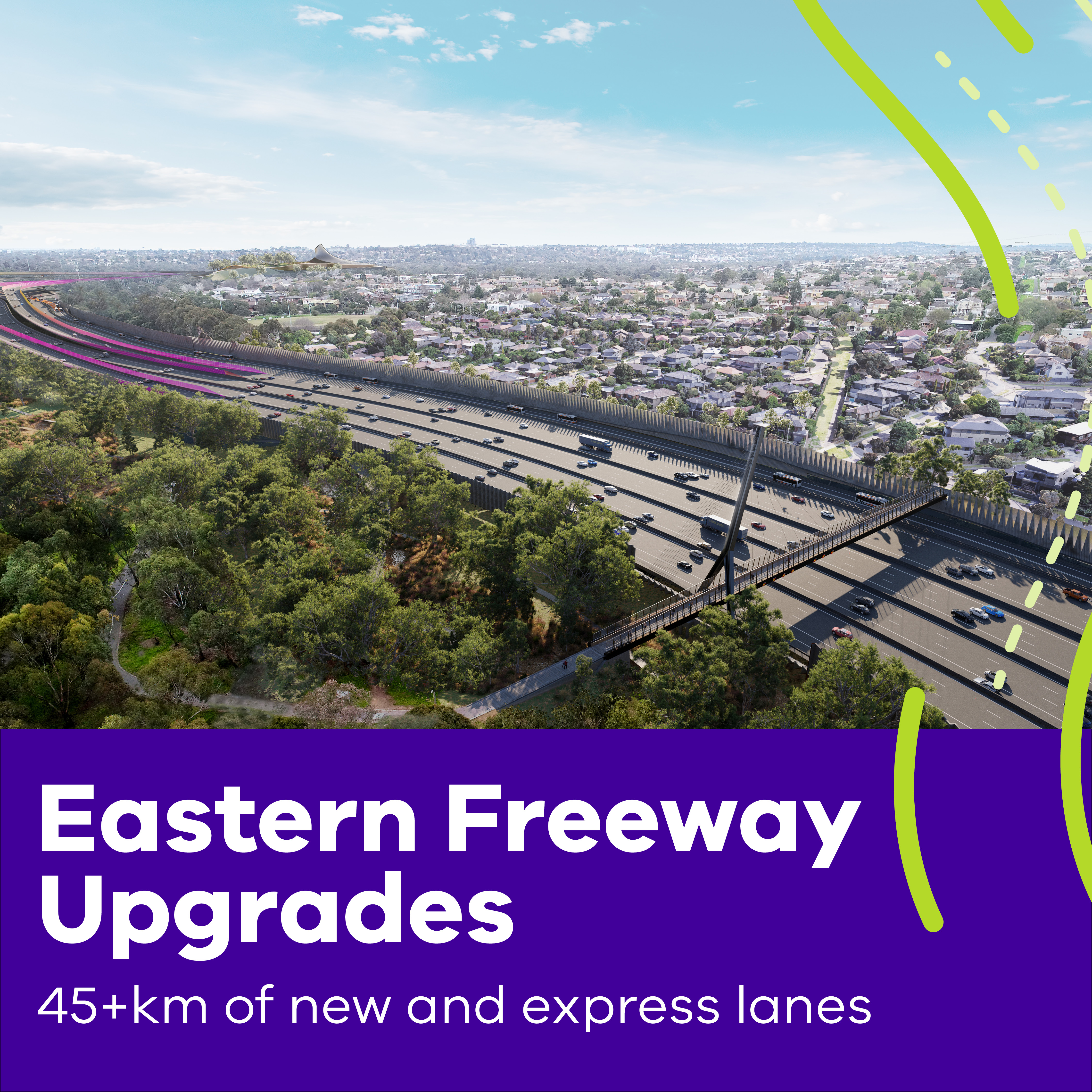 Designs for North East Link have been released today outlining the next steps to deliver a massive overhaul of the Eastern Freeway and Eastern Express Busway.
The design to fix the missing link in Melbourne's freeway network includes more than 45 kilometres of extra lanes and new technology where it is needed most to keep traffic moving on the Eastern Freeway.
Travel times between Springvale Rd and Hoddle St will be slashed by 11 minutes and six express lanes will mean smoother trips between Middleborough Road and Chandler Highway, reducing merging and weaving that causes congestion today.
Designs released today also include a longer tunnel to Watsonia, simpler underground interchanges, a new tree-lined boulevard for Greensborough Road and three new, revived and reconnected parklands and wetlands including a new cultural precinct for Melbourne along the Yarra River.
Melbourne's first dedicated busway along the Eastern Freeway will make it quicker and easier to get to and from the city. The Eastern Express busway will include 11 kilometres of dedicated express bus lanes, with buses travelling up to 100km/h and a bus every minute in the peak creating a 30% reduction on commuter travel time.
A brand new Park and Ride will be built in Bulleen and the Doncaster Park and Ride will be upgraded, doubling the number of commuter parking spaces for express bus services to the city.
Construction is now underway on the Bulleen Park and Ride – the first new infrastructure as part of the busway – which will feature a 5,000 square metre landscaped green roof, pick-up/drop-off parking bays, myki machines, toilets, a bicycle repair station and bench seating.
A new two-hectare green bridge in Bulleen will link Koonung Creek Trail to Bulleen Park and Yarra River parklands, connecting schools, playing fields and sports clubs. Pocket parks, landscaping and seating on top will offer views to the Yarra River and new Koonung Creek wetlands and community park below.
The North East Link tunnels will be delivered by Spark consortium in a $11.1 billion Public Private Partnership contract, subject to financial close. With the tunnelling package now awarded, other key elements of North East Link such as the Eastern Freeway overhaul will start being taken out to market from 2022.
Urban design and landscape plans will be prepared so people can see designs in much more detail and make a written submission.
The urban design and landscape plan for the North East Link Tunnels and North East Trail from Watsonia to Bulleen will be on exhibition in early 2022. Plans for the other elements of North East Link will follow as builders for these come on board.
North East Link is part of more than $18 billion being invested by the Andrews Labor Government into major road and rail projects in Melbourne's north and north-east. These projects will work together to reduce congestion, cut travel times and provide more trains more often.
North East Link, Suburban Rail Loop, Hurstbridge Line Duplication and the Metro Tunnel will transform travel, making getting to work, school and health services quicker and easier.

North East Link is jointly funded by the Commonwealth and Victorian governments.
Quotes attributable to Member for Bayswater Jackson Taylor
"Modernising the Eastern Freeway will deliver extra lanes where they're needed most and new technology to keep traffic moving. Melbourne's first dedicated busway, will deliver fully separated, uninterrupted bus travel and slashing journey times for bus passengers."
"This design released today is the result of extensive community consultation and delivers what people have asked for."