DELIVERING THE GREEN HEART OF KNOX
16 June 2022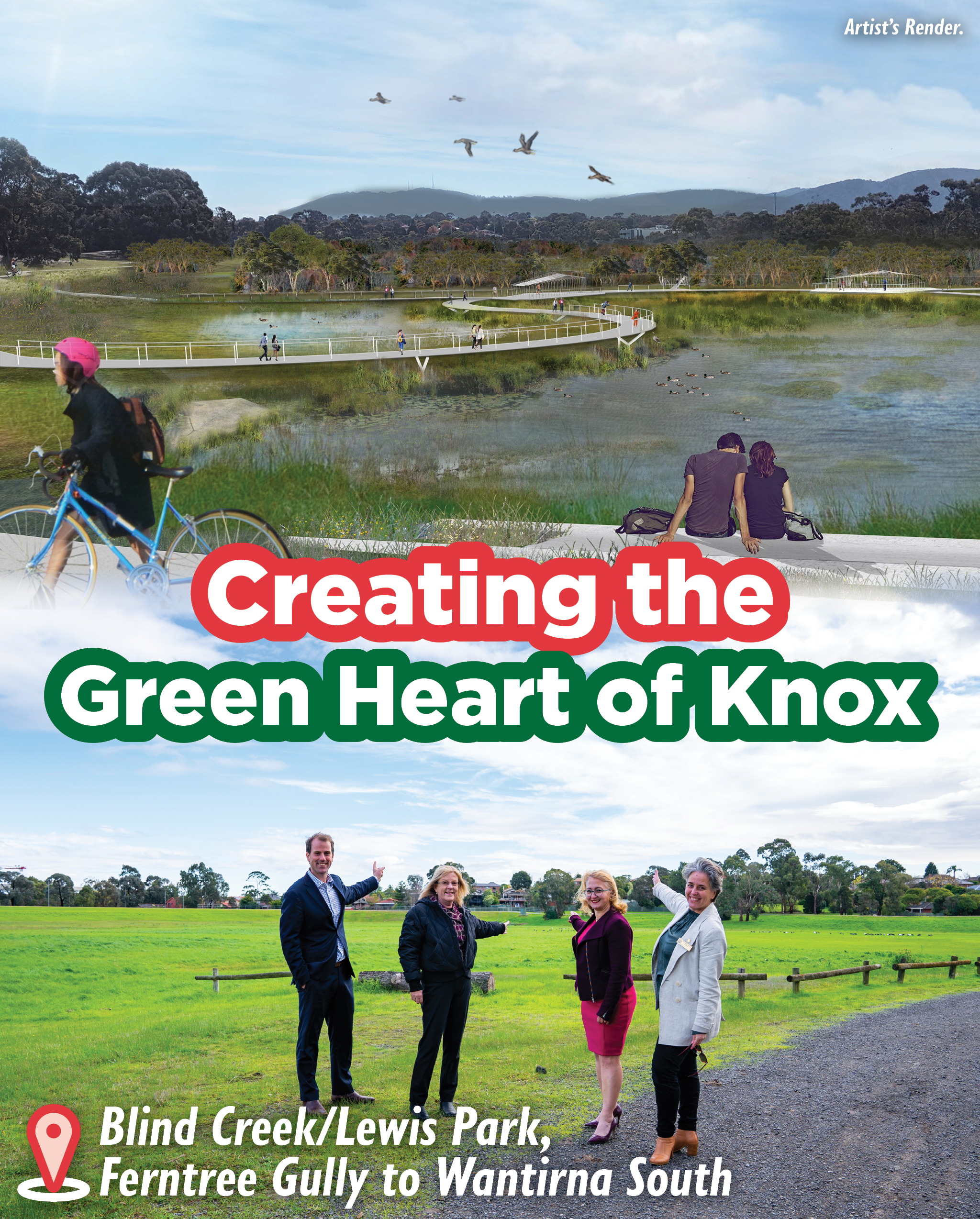 The Andrews Labor Government is delivering the single biggest open space and environmental project in a generation in Knox by delivering the 'Green Heart' of Knox – unlocking more green space for locals and visitors to enjoy while delivering unprecedented environmental outcomes.
Minister for Water Lisa Neville alongside local Member for Bayswater, Jackson Taylor, announced $2.5 million in funding as part of an $18 million project to rejuvenate 1.6 kilometres of Blind Creek as part of the Integrated Water Management program.
The State Government via Melbourne Water is contributing $12 million and Knox Council is contributing $3.5 million.
The Green Heart of Knox project – located between Scoresby Road and Lewis Park, just north of Knox City, will deliver:
Un-piping of 1.65km of waterways, creating a beautiful and naturalised green spine, linking Fairpark to the east
with Lewis Park to the west
The activation of 33 hectares of open space for community use and benefit
The creation of 3 new wetlands and 2 water harvesting ponds
Over 6km of new walking paths integrated into the broader network
Nearly 700,000 new native plants
Improved waterway quality and more flood storage
Nearly 2,000 native trees to be planted
A boardwalk through the new wetland system at Lewis Park – with viewing platforms and other engagement opportunities like stepping stones for the community to enjoy
Importantly, the works will harvest around 250 million litres a year of stormwater that can be used to irrigate local sports ovals and community gardens. There will also be an improvement in the quality of water flowing through to Dandenong Creek.
The Green Heart project builds on work already delivered at Blind Creek at Fairpark which saw 650 meters of the creek brought back above ground in 2020, which locals are now enjoying.
The project is one of 11 metropolitan and 17 regional projects receiving a funding boost under the first round of the, $14.1 million program.
Quotes attributable to Jackson Taylor, Member for Bayswater
"It's hard to overstate just how big this project is and what it'll mean long term – for the environment, for open space and for the whole of Knox and the outer east."
"This is going to give our waterways back to community where they belong and unlock green open space for locals to enjoy, all while making our local waterways healthier and cleaner"
"I'm stoked this project will unlock and activate almost 17 MCGs worth of open space for the whole community to enjoy for generations to come."