COMMUNITY GRANTS FOR LOCAL BORONIA ORGANISATIONS
14 December 2021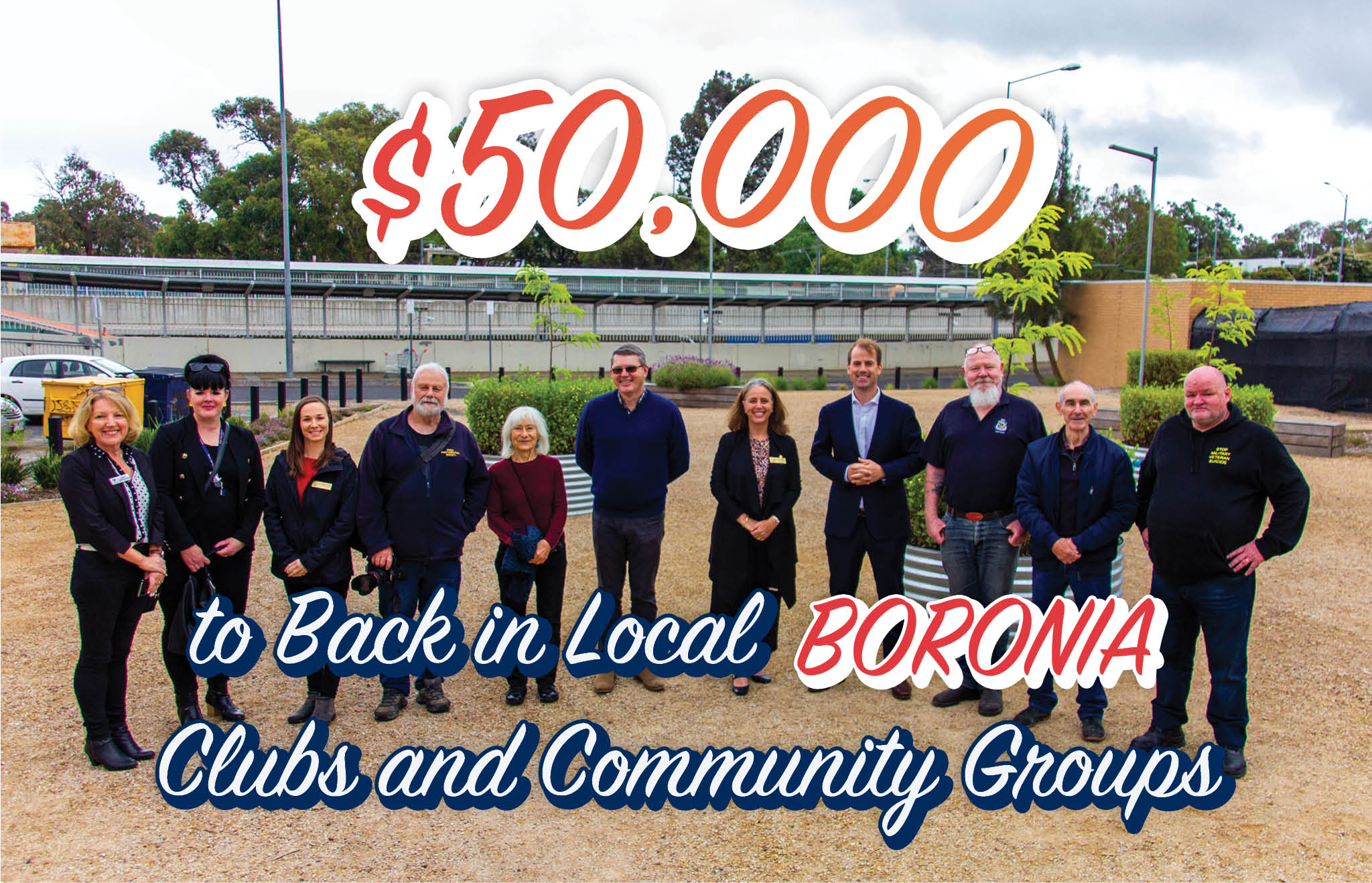 Grants of up to $5,000 have been awarded to 18 not-for-profit and community organisations in Boronia for the purchase of equipment to support community programs under the Boronia Revitalisation Community Grant Fund.

The Chair of the Boronia Revitalisation Board, Jackson Taylor MP for Bayswater joined the Mayor of Knox City Council, Cr Susan Laukens today to announce $50,000 in grants that have been allocated to the following organisations through Victorian Government's Suburban Revitalisation program:
Cooinda Playgroup
Saint Paul's Church Boronia
Knox Community Gardens Society Inc.
Knox Photographic Society
Australian Peacekeeper and Peacemaker Veterans' Association Victorian Branch
Belonging Matters Inc.
Alchester Village Pre-School
Boronia Bowls Club
Boronia Hawks Football Netball Club
Knox Community Baptist Church
The Haven Day Centre Ltd.
Boronia & Bayswater Community Churches of Christ
Interchange Outer East
Knox Infolink Inc.
The Basin Community House Inc.
Boronia Cricket Club
Relationships Australia Victoria
Girl Guides Association of Victoria – Boronia.
Organisations were granted funding for items such as, kitchen items and appliances and technical equipment, such as computers, tablets, AV equipment and projectors to help strengthen capacity and service delivery.

The Boronia Revitalisation Community Grant program, administered by the Knox City Council on behalf of the Boronia Revitalisation Board, is supporting Boronia's ongoing revitalisation, through increased community connection and is part of almost $2.8 million that has been invested to date into 18 Suburban Revitalisation projects across Boronia.

This includes a range of public infrastructure projects, as well as community projects, including $148,000 for the Boronia Community Breakfast Program, which is offering free breakfasts to Boronia residents five days a week.

Launched in October and running until June 2022, the breakfast program, run by Knox Infolink, also connects community members with specific support services.
For more information about the Boronia Suburban Revitalisation Program
visit suburbandevelopment.vic.gov.au/home/suburban-revitalisation/boronia

Quote attributable to Chair of the Boronia Revitalisation Board and Member for Bayswater
Jackson Taylor:
"I am proud of the 18 not-for-profit and community organisations that have received grants that will help strengthen their services so that they are able to continue their great work – thank you for continually supporting Boronia residents."

Quote attributable to Mayor of the Knox City Council Cr Susan Laukens
"These grants will enhance community wellbeing and social connection by supporting community services and facilities that meet the needs of the community, support social connection and strengthen community groups."