BURWOOD HIGHWAY SHARED PATH OPENS
20 October 2021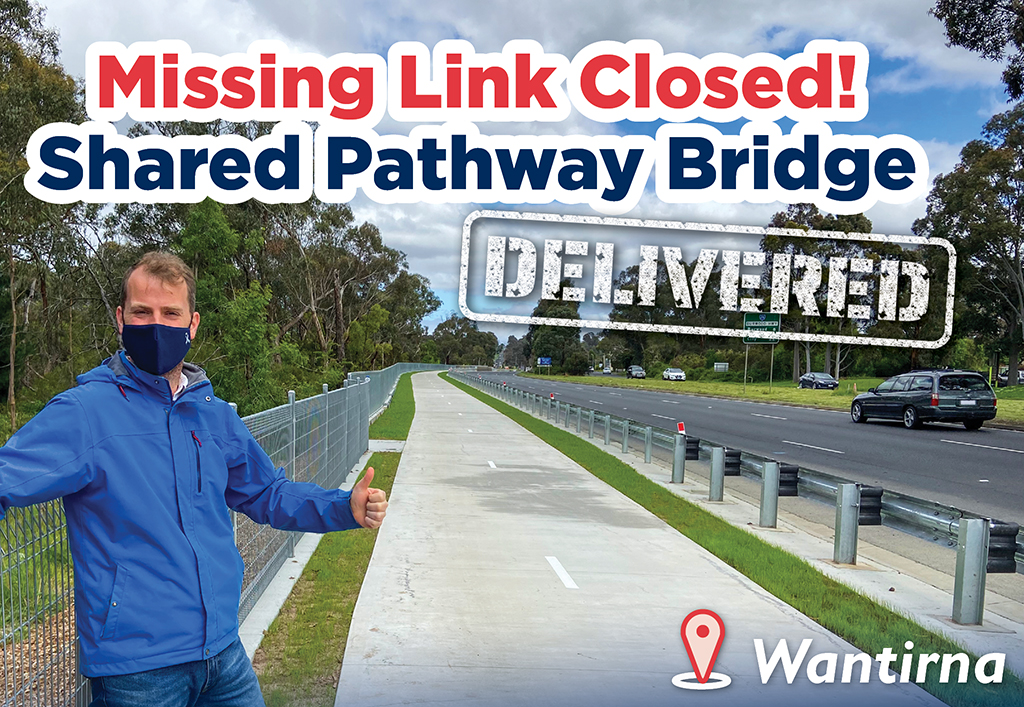 A new off-road path connecting cyclists and pedestrians along the Burwood Highway is now open to the public in time for the warmer months.
Minister for Roads and Road Safety Ben Carroll said the 800-metre shared user path had completed a missing link in the local cycling network.
Between Morack Road, Vermont South and the Eastlink Trail in Wantirna South, the off-road path runs adjacent to the Burwood Highway.
It connects to the new 45-metre-long bridge over the Dandenong Creek, giving users more space to safely cross the creek on their way to school, work or for leisure activities.
The three-metre-wide path provides a safer connection to the popular Eastlink and Dandenong Creek Trails and links to the existing shared-use path along Burwood Highway towards Knox Shopping Centre.
The new concrete path and bridge also offer an alternative route to the boardwalk north of Burwood Highway, often closed during wet weather.
The project is part of the Andrews Labor Government's $100 million Safer Cycling and Pedestrian Program, which aims to improve safety for cyclists and pedestrians and encourage more active modes of transport.
Quotes attributable to Minister for Roads and Road Safety Ben Carroll
"We are making it safer and more accessible for cyclists and pedestrians to travel between Vermont South and Wantirna South, with this new path offering a better connection to popular trails and local amenities."
"The delivery of this shared user path comes in time for the warmer months and is an important link for the community."
Quotes attributable to Member for Bayswater Jackson Taylor
"The delivery of this new shared pathway in Wantirna closes a missing link in our local network and means a safer crossing for pedestrians, cyclists and locals alike."
Quotes attributable to Member for Eastern Metropolitan Region Shaun Leane
"We have delivered a new 800-metre Burwood Highway shared use path including a new bridge just in time for the warmer weather when pedestrians will use it most."
"The new path and bridge will also help connect cyclists and pedestrians with popular local trails to get to where they need to go and provide a wider and safer connection across Dandenong Creek."